Norwegian-German Chamber of Commerce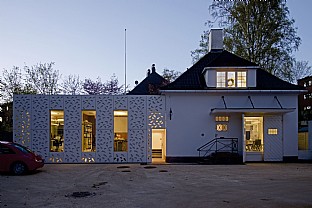 Client
Deutsch-Norwegische/Tysk-Norsk Handelskammer
Address
Oslo, Norway
Size
988 m²
Year
2011-2016
The extension of the Norwegian-German Chamber of Commerce in Oslo was envisioned as a stringent geometric structure that stands in stark contrast to the Jugendstil of the original buildings. The addition is designed as a sharply cut prism with expansive surfaces.
The property was once the embassy of the DDR. The original buildings comprise two white, plastered brick structures in the Jugendstil from 1915: The Embassy building and the Porter's Lodge (protected by Norwegian law as a cultural heritage monument). The Chamber of Commerce consists of office functions.
The extension is limited to one ground floor and a lower floor where the ground around the building has been excavated on two sides to bring in light. There are minimalist details where the building meets the ground, roofs and existing buildings. The front door is sunken so as to be flush with the new façade screen of perforated fibre-reinforced concrete, decorated with natural motifs in the Jugendstil. Since an elevator would steal from the limited office space, a platform staircase has been incorporated into the extension – between the entrance level and the ground floor level, which is flush with the floor in the Porter's Lodge.
The ground and lower floors of the Porter's Lodge have been converted into office space. At the same time, we have brought the north façade back to its original appearance and added a window in the existing window recess to ensure better lighting. The offices in the original and in extension building can be used as one coherent unit.
Team
Client consultant
NCO AS
Engineering
NCO AS
Architect
C.F. Møller Architects in collaboration with Dahle & Breitenstein (a part of C.F Møller since 2012)
Awards
Shortlisted for Oslo City Architecture Award. 2017
Energy and sustainability
| | |
| --- | --- |
| | High performance thermal insulation |
| | |
| --- | --- |
| | Daylight |
| | |
| --- | --- |
| | Ventilation |
| | |
| --- | --- |
| | Passive solar design |
| | |
| --- | --- |
| | Low energy windows |
| | |
| --- | --- |
| | Green Roof |
| | |
| --- | --- |
| | LED |