1 Million M² On Site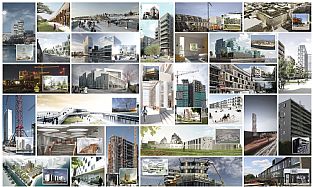 27.5.2015 | C.F. Møller Architects' construction volumes are currently at a record high, with over one million square meters of construction in progress in the spring of 2015.
The New University Hospital in Aarhus, the Maersk building in Copenhagen, Slussen in Stockholm, student housing at the University of Southern Denmark, new offices for the fashion company Bestseller and the residential project Havneholmen in Aarhus, the Greenwich Peninsula Low Carbon Energy Centre in London, the emergency department at Haukeland University Hospital in Bergen and a Montessori School in Bali.

The above are just a sample of the many projects on site in spring 2015, making it the period in C.F. Møller's more than 90-year long history with the largest amount of square meters under construction, spread out on a wide range of large and small construction sites.

- Looking around, we can see C.F. Møller making a splash with the design of a wide range of cutting-edge construction projects. We are pleased, of course – it's a great milestone to see one million square meters of actual buildings that are rising here and now, explains managing director and partner in the architectural firm, Klaus Toustrup.

From the drawing board to the site
Recent construction sites include large-scale landmark projects like the Frederik's Square mix-use complex in the centre of Aarhus, the music and theatre hall Odeon in Odense, a large assisted living facility in Oslo and the innovative laboratory mecca Biomedicum at the Karolinska Institute in Stockholm.

- This clearly demonstrates that we are able to take our visions and architectural principles from the sketches and visualizations to construction sites around Scandinavia, the UK and the rest of the world, says Klaus Toustrup.

- At the same time, such a large volume ensures that we constantly evolve and become even more skilled in the realization phases of projects. This period has seen the implementation of new digital platforms such as BIM, 3D-design and electronic tendering. C.F. Møller is now 100 percent migrated to 3D-design, and we have developed a number of tools and procedures that specifically handle these new paradigms. It can be costly to be a first mover, but we now have unique experiences and a specialized organization which is able to utilize the whole range of 3D tools, for our benefit as well as that of our clients and collaborators - now and in the future, he says.

More to come
Large-scale projects such as the New University Hospital in Aarhus, Slussen, Biomedicum, Frederik's Square and the Maersk Building make up a large part of the total volume, but the one million square metres includes a total of 32 construction sites across Denmark, Sweden, Norway, England and Indonesia.

But there will be more starting up soon, says Klaus Toustrup.
- We have several exciting projects on the way to breaking ground in 2015, and at the same time we are working hard on a number of competitions. We have a residential tower in Antwerp, which will soon start up, as will a long list of projects going into the construction phase shortly, he said.

* Square meter figures are based on gross floor areas of actual building sites, including new construction, renovation and restoration. Landscape areas etc. are not included in the calculation.