25 years of creating subtle contrasts with C.F. Møller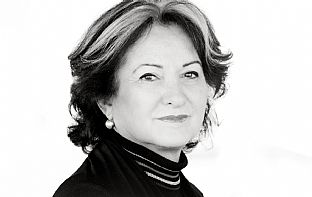 9.7.2015 | Partner Anna Maria Indrio retires and says thank you to her colleagues after 25 years of architectural design work with C.F. Møller.
Anna Maria Luisa Indrio and C.F. Møller Architects were two pieces falling in into place. She was looking for a team to cooperate with and C.F. Møller was looking for an experienced architect to lead a new Copenhagen office back in 1991, where she was later joined by Lone Wiggers and Mads Mandrup Hansen. Now, after 25 years with the practice, Anna Maria Indrio officially retires from C.F. Møller.

I've been proud to identify myself with C.F. Møller. I've been part of a fantastic team of co-workers and with C.F. Møller's culture in the back I seized the opportunity and got to touch so many remarkable projects, Anna Maria Indrio stated in her farewell speech for the Copenhagen office on Friday 12 June.

In contrast
During her 25 years with C.F. Møller, Anna Maria Indrio has been the partner-in-charge on several major projects counting six museums, a prison and multiple university buildings among C.F. Møller's many references.

Subtle contrast is key in the the work of C.F. Møller and Italian-born Anna Maria Indrio, illustrated for example in the extension to the National Gallery of Denmark in Copenhagen, the Darwin Centre in London or the housing project Østerbrogade 105 which modestly but precisely brings classic and modern together in accord.

Back to the grass roots
Though Anna Maria Indrio withdraws from C.F. Møller from July 7th she doesn't leave architecture: After almost 50 professional years as an architect it has become a natural part of her. Now she is searching back to the grass root times that once shaped her in the 60's and 70's to pass on her experience in new projects together with young architects.