400 New Homes Topping Out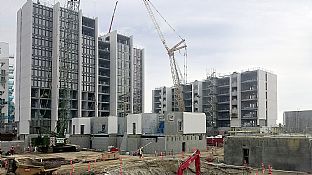 29.5.2015 | In about six months, the first residents can move into Havneholmen, one of the largest housing projects in the Port of Aarhus close to the city and the bay.
Together with C.F. Møller and the clients PenSam and Topdanmark, turnkey contractors NCC held a topping-out ceremony Thursday, May 28 at the housing complex, which constitutes an important part of the northern urban development areas in the Port of Aarhus.

With about 4,000 newcomers annually, Aarhus is growing significantly, and the new homes are located alongside several other exciting housing developments at the Port of Aarhus. Havneholmen will contain 400 apartments for rent - mainly 2- and 3-bedroom apartments - and all residents will have the proximity to the port and town at the same time.

Front row location
The complex is located on one of the most attractive plots in the port, in the first line towards the Bay of Aarhus, and consists of a series of tall, slender buildings with characteristic steel girders at the top, as a reference to the classic canal houses with their external hoists. Residents will have direct access to the waterfront promenades as well as a sheltered green courtyard garden.

Contractors NCC are leading the design & build team, with C.F. Møller Architects and COWI engineers as consultants. The clients are the pension funds Topdanmark and PenSam, with Kromann Reumert and Niras as advisors.

The topping-out ceremony marks that there is now about half a year remaining before the first residents move in: The first stage of Havneholmen is planned to be ready for occupancy by the first quarter of 2016, and the next two stages of the construction are scheduled for completion later that year.