Aarhus' best experience for families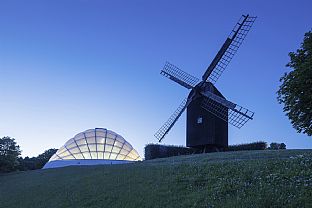 12.11.2015 | On Wednesday evening, C.F. Møller's renovation and new creation of the Tropical Houses in the Botanical Gardens was nominated as the City's Best Family Experience in Aarhus at the AOA Byens Bedste (City's Best) Award Show 2015.
An audience of 1,100 at the Scandinavian Congress Center in Aarhus heard how the residents of eastern Jutland had voted for the Tropical Houses in the Botanical Gardens as the best family experience in Denmark's second-largest city.

This was the ninth consecutive year that awards were given to people and places in Aarhus that each make a contribution to making Aarhus a city with a wealth of experiences to offer.

The project includes a comprehensive restoration of the greenhouse in the Botanic Garden in Aarhus originally designed by C.F. Møller in 1969. The existing palm house, which had been literally outgrown, is transformed into a botanical knowledge centre and public café, and the complex is extended with a new, 18 metres tall tropical greenhouse, in which the public can go exploring among the tree-tops.

The existing snail-shaped building was well adapted to its surroundings, and the new design integrates closely with the flowing, organic architectural forms. At the same time, the new hothouse is based on energy-conserving design solutions and on knowledge of materials, indoor climate and technology. Advanced calculations have ensured that form and energy consumption interact in the best possible manner.

The domed shape and the building's orientation in relation to the points of the compass have been chosen because this precise format gives the smallest surface area coupled with the largest volume, as well as the best possible sunlight incidence in winter, and the least possible in summer. The light transparent dome is clad with ETFE foil cushions with an integrated pneumatic shading system.