Ambitious urban development project in Randers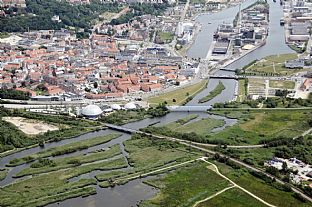 14.11.2014 | A C.F. Møller-led team featuring Orbicon, Habitats and Smith Innovation has been invited to tender for the project "City to the Water", re-developing the future centre of the town of Randers.
Re-connecting the city with its port and river fronts is the objective of the project "City to the Water", which in 2015 will have completed a series of feasibility studies.

The project will link Randers' medieval town with the river Gudenåen and the Randers Fjord, and create new opportunities for housing, activities and leisure in the historic Jutland city.

Holistic urban development focused on nature
Randers Municipality together with the Realdania foundation is now in search of the right consultants to implement the first step in the realization of the vision for the city's future. C.F. Møller has been selected for the shortlist from a strong group of 13 highly qualified applicants.

Along with sub-consultants Orbicon, Habitats and Smith Innovation, our team will focus on climate change adaptation, the integration of nature in the city, and Randers' infrastructure. The overall aim is to provide options for holistic urban development and comprehensive planning for the Randers Municipality.

Fierce competition
C.F. Møller will be competing with four other teams in the tender for "City to the Water". Teams led by Bascon, COWI, Vandkunsten architects and Tredje Natur respectively are also shortlisted for the tender phase.

Randers Municipality and Realdania will select the winning team for the project in early 2015.