Architecture Award for Great Work Environment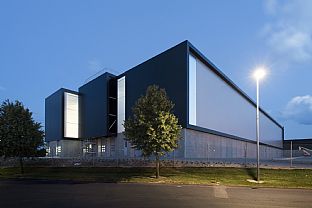 28.10.2015 | Logstar - the construction wholesaler Saint-Gobain's new, fully-automated logistics centre near Randers featuring state-of-the art goods handling and a high-standard working environment – has won the Randers Municipality Architecture Award.
Logstar consists of two parts: a shuttle warehouse, where packaged goods are carried automatically to collection stations, and a staffed section that is connected directly to the warehouse with offices, a meeting room and goods delivery.

The 110-metre long and 20-metre high warehouse building has a ground plan the size of a soccer pitch. From Randers' southern motorway the building can be seen as three high blocks, stacked next to each other. The design idea is that future expansions will add to the architecture, rather than depleting it, so that the design will be even more attractive if the present three warehouse blocks later increase to four, five or six. As dusk approaches, Logstar is illuminated via translucent panels between the warehouse blocks, emphasising the façade's rhythm in a whole new way.

Humane Environment
The staff section houses 10-15 workplaces. A glass wall allows a direct view of the high shuttle warehouse's 29 shelves. Offices, meeting rooms and manual workplaces are illuminated by generous amounts of daylight for a more beautiful and safer working environment. Timber-clad "rooms within a room" create a shared space for staff and clients.

- The internal working environment of the building is great, with a mix of offices, meeting rooms and production halls. The contrast between the raw, industrial manned machines and conveyors to the more elaborate offices and meeting rooms works well. The elegant and finely detailed meeting boxes with wooden slats, the distinctive graphic color scheme and soft carpeting matches the raw and industrial and creates an exciting and fruitful interaction. With the new shuttle warehouse, efficiency has been considerably enhanced and employees can now manage to handle 5 to 10 times more than previously, the jury highlights as motivation for awarding the prize.

Logstar covers 14,000 m² and has been designed by C.F. Møller in cooperation with engineers Niras for Brdr. Dahl / Saint-Gobain Denmark, and built by turnkey contractor AMATECH A/S.