Architecture Award for innovative youth housing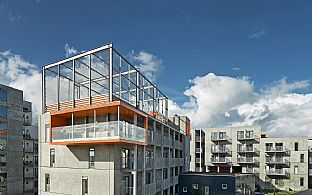 1.10.2014 | The city of Aalborg has attracted attention by focusing on good student and youth homes in attractive locations in the city. The most recent example, the Henius House on the former Eternit areas, has today received the Aalborg Municipality Architecture Prize.
The Eternit area (called Eternitten) is a brownfield site, two kilometres south of the city of Aalborg, which previously housed the Danish Eternit factories in Aalborg. It is now under the transformation from cement industry to new urban district. The 240 new youth homes - called Henius House after Isidor Henius who owned the Eternit areas in 1896 - is a modern youth housing development with emphasis on the social community.

The jury's motivation for the architectural award includes:
The building is a great contribution to the Eternit area's history and further development, and a good example of a modern youth housing, offering a social community with many opportunities for shared activities. (...) The facades of concrete panels with exposed construction joints are inspired by the original rough industrial architecture of the Danish Eternit factory, interspersed with protruding volumes, another characteristic of the former industrial buildings. There are fine details in both the colour scheme as well as in the many railings.

Optimizing the circulation and gross areas of the complex has successfully provided the budget to upgrade the shared facilities: The buildings offer both shared kitchen facilities and common rooms on various floors, common fitness facilities, internet café and workshops as well as outdoor areas designed for sports, movement, health and social life. The roofs are used for a ball court and various roof terraces, and the common facilities are highlighted with colours, graphics and scenographic lighting to emphasize their importance in the complex.

Six buildings in all, with four to five storeys each, are oriented so that all residents are secured the best possible light and views of the area – which is on a ridge overlooking the city, the valley of Østerådal and the Limfjord strait. The buildings meet the requirements for Danish low-energy class 2015.

The youth residences are flexible in their design to ensure optimal opportunities for future adaptations of the interiors, so that two youth residences for example can be merged into a family home or a shared flat.

C.F. Møller Architects and C.F. Møller Landscape have designed the Henius House, which was built as a turnkey project by contractor A. Enggaard for the Himmerland Housing Association.