Birth of Frederiks Plads in Aarhus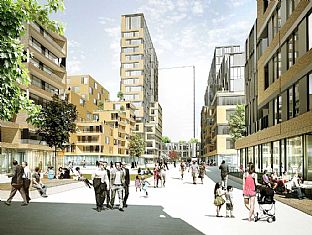 26.1.2015 | The machines have been started up. C.F. Møller has designed this ambitious new urban development project in the centre of Aarhus, of which the first stage in now underway.
At the site of the Danish State Railways' former component workshop, almost 50,000 m² of new construction is now underway in central Aarhus. The first construction machines are in evidence at Frederiks Plads, the name given to the coming new complex.

C.F. Møller designed this billion-kroner construction project, undertaken by the construction firm NCC, and backed by NCC Property Development and Bricks. The new development will include commercial premises, homes and parking spaces.

"This project will be an important milestone in creating the Aarhus of the future. Frederiks Plads will help to interconnect the central areas of the city, and will be of special value as the link between the city and its exciting new port development," says Michael Kruse, associated partner at C.F. Møller.

Striking change
Frederiks Plads will be a striking contrast to the previous industrial buildings on this site. On its completion, the project will offer12,000 m² of residential units, towards 500 parking spaces, and more than 40,000 m² of commercial floorspace.

"For a century, the site has been home to DSB's workshops, but in the future, Frederiks Plads - with a new green oasis as its hub - will open up towards the city with pedestrian precincts, cafés and shops, busy squares in the summer and a skating rink in the winter," says Michael Kruse.

"This will be final stage of regenerating this part of the city, which over the years has gained Bruuns Galleri, DGI-Huset and Jægergården - and now also Frederiks Plads."

First steps
The creation of Frederiks Plads will start with the excavations and foundations for the two-storey underground car park, 8-9 metres below ground. This will be followed by the construction of the first 13,500 m², comprising both homes and shops.

The first stage will be constructed on the corner of the site adjacent to the southern section of Værkmestergade and Jægergårdsgade. The first flats are expected to be ready for occupation at the end of 2016.