C.F. Møller is designing 400 timber-built flats at Norrtälje harbour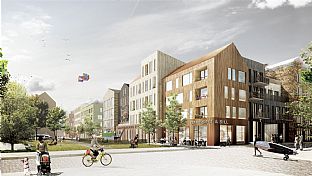 20.1.2016 | C.F. Møller is creating the architecture for three residential areas as the generator for the new social and ecological development of Norrtälje in Sweden.
During the next few years, 400 new timber-built flats will be created at the harbour in Norrtälje, northeast of Stockholm.

C.F. Møller is designing the new residential area, based on inclusive architecture to create optimum conditions and settings for people's lives. The new quarter is for people and families at different stages of their lives, with varying backgrounds and lifestyles. The project is being designed in harmony with Norrtälje's ambitions for urban life, environment, culture and service in the near environment.

Timber-built
C.F. Møller, together with project developer Slättö Förvaltning, is behind the decision to use wood as the building material for the many flats. This decision is based on responsibility for the project's overall environmental impact and life-cycle perspective, in terms of production, operation and disposal. Timber also offers some exciting opportunities for architecture, quality and design.

"We wish to create the framework for a socially and ecologically sustainable quarter with architecture and environments that can inspire residents and visitors. There will be wood in both façades and building envelopes and this will contribute to a positive ecological impact," says team leader Ola Jonsson of C.F. Møller about the project.

"The quarter is framed by a series of urban-quarter houses of varying character, contributing to a vibrant and lively street atmosphere," he says.

Recreating urban life
The new buildings and public areas in Norrtälje will be of varying design, as a modern interpretation of Norrtälje's existing town centre.

"With the three new residential complexes we will be contributing to an attractive urban environment, visionary residential construction and new meeting places, which are all vital aspects of people's presence and well-being," says Ola Jonsson.

"Our aim to create the setting for a socially sustainable urban quarter is also based on the quarter's core values: children, boats and swimming," says Ola Jonsson.

C.F. Møller is currently among the leading architectural practices in using wood as a material in modern architecture. The architectural practice has a unique research project, Tall Timber Buildings, to develop solutions for timber multi-storey buildings with over 20 floors that are viable in practice.