C.F. MØLLER IS TO MODERNISE LABORATORIES AT AARHUS UNIVERSITY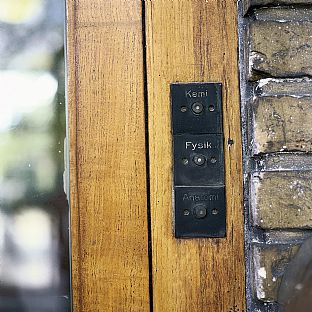 14.10.2015 | Building 1512 at the University Park in Aarhus is creating a future with flexible and future-proof world-class laboratories.

Ever since C.F. Møller drew the first sketches for Aarhus University, back in the 1930s, the architectural practice has continued to influence the development of the enormous campus site in Denmark's second-largest city.

There are now plans for extensive modernisation of the existing teaching and research laboratories in the University's Building 1512. C.F. Møller as turnkey adviser, with Søren Jensen Rådgivende Ingeniører as sub-adviser, will undertake this modernisation.

"Building 1512 is an opportunity to modernise elements of our own design that, back then, helped to shape the university. During recent years we have extensively expanded our experience with laboratory buildings, so that our clear ambition is to deliver world-class laboratories to Aarhus University," says Tom Danielsen, partner in C.F. Møller.

More than 50 years of research
Building 1512 is situated in the University Park, as part of the chemistry complex – an interrelated cluster consisting of buildings 1510-1516. The buildings were commissioned in 1959-61 and are designed for teaching and research in the chemistry fields.

The Building is used by the Department of Chemistry and besides teaching and research laboratories also includes offices, support facilities, depots, student facilities and classrooms. The building has six storeys.
"The Danish Ministry of Culture's report on the cultural importance of Aarhus University states that the University honours tile as a material. This ingot of burnt clay with tactile surfaces is one of the reasons that the University is particularly capable – not least environmentally – of embracing modernisation and thereby future-proofing the building," says Tom Danielsen.

"Over a number of years, we have gathered material to document our experience of how the old walls and their interiors must be handled. We also emphasise how energy-saving measures are the basis for this work."

Building 1512 in the University Park has a gross floor area of 2,000 m². The modernisation project was achieved via C.F. Møller's framework agreement for turnkey advisory services at Aarhus University.