C.F. MØLLER NORWAY IS MOVING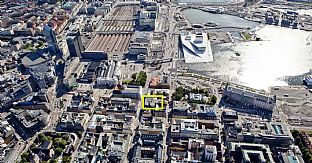 13.1.2016 | C.F. Møller's Norwegian architectural practice is moving into new premises in the centre of Oslo.
From 18 January, C.F. Møller Norge is moving from Dronning Mauds Gate to Prinsens Gate 2 in the lower part of the city's central district, "the Quadrature". The architectural practice is moving into the building which was previously called the Denofa building, originally designed by the architect O. Eindride Slaatto.

The building dates from 1932, and in 1933 Prinsens Gate 2 in Oslo received the Houens Foundation's diploma for good architecture – one of Norway's finest architectural awards. The building is one of Oslo's first and best examples of functionalism.

C.F. Møller's Norwegian history began with the Bislett Stadium. When C.F. Møller won the international competition back in 1995, the assignment required a local project office. This was established, and during the following years, three employees were located at the actual stadium.

In 2000, when C.F. Møller won the competition to renovate Akershus University Hospital, this laid the foundation for an actual office, and since then C.F. Møller Norway has functioned as a subsidiary in the Group.
Today, more than 25 employees are located at the Norwegian office. C.F. Møller Norway itself refurbished the offices, which consist of open, light premises with high ceilings on the ground floor.

Historical significance
The location of C.F. Møller Norway's new office plays a very special role in the history of Oslo. After the fire in the city in 1624, King Christian IV decided to move the city west of the Bjørvika area, in order to strengthen its defences. This would allow the city to be protected by the Akershus fortification.

Streets and quarters were then created according to the Renaissance ideals of geometrical symmetry. Hence the area's name - the Quadrature. The city itself was named Christiania by the King.

C.F. Møller Norge's new premises are located at Prinsens Gate 2, 1st floor, NO-0152 Oslo.