C.F. Møller to design new School in Uppsala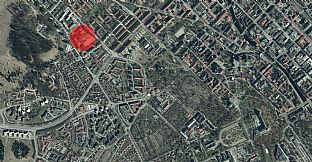 14.9.2015 | In Sweden, Uppsala Municipality's Educational Properties Administration has allocated the contract to design a new school, Nya Tiundaskolen, in Luthagen, a district in west Uppsala, to C.F. Møller and ByggDialog.
The contract is a turnkey project combined with a partnership contract, which includes demolition of the existing school and construction of Nya Tiundaskolen. The decision to run the project as a partnership between ByggDialog and C.F. Møller was made with a view to achieving high quality, design excellence and process transparency by the parties' working in an open dialogue and freely sharing their expertise.
The existing school was built in 1962 and several classrooms are no longer in use as they do not meet contemporary OHSE standards. Demolition work will start in 2015. When the new school buildings are ready for the autumn term in 2018, the complex will provide facilities for 900 pupils from nursery class to Grade 9, and a pre-school childcare unit for 144 children. The new school will also house an after-school club, sports hall and kitchens.

Uppsala Municipality's Education Properties Administration:
"We seek to create a future-proof learning environment – a modern school and pre-school unit. Both will be attractive, safe and accessible to everyone. The new building complex must have a simple and rugged structure with clear boundaries, clearly defined surfaces and strong focus on common areas to give students, staff and members of the public opportunities to develop a sense of community, belonging and pride in their school. The design of this area must be attractive and welcoming, and it should encourage social interaction and inspire a sense of security."

C.F. Møller has a wealth of experience of working with educational environments, ranging from Aarhus University, which is ranked as one of the world's best university campuses, to current projects, in which we are designing nurseries, schools and residential school buildings in every corner of Scandinavia. Our approach is always to establish interplay between educational and spacial development. Working closely with all the parties involved, we create stimulating environments for educational activities, which delight users and clients, and create socially and financially sustainable projects of high architectonic value.