C.F. MØLLER WINS "CITY TO THE WATER"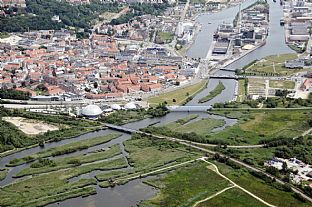 22.1.2015 | The team headed by C.F. Møller, with Orbicon, Habitats and Smith Innovation, will handle the preliminary surveys for an ambitious development project in Randers.


New solutions, new processes, new involvement methods and new achievement methods. These are four of the key elements in Team C.F. Møller's winning bid for the "City to the Water" urban development project in Randers.

The steering group, with representatives from Randers Municipality and Realdania, chose C.F. Møller's bid in competition with bids from Team COWI, Team Vandkunsten, Team Bascon and Team Tredje Natur.

"'City to the Water' is a visionary and complex urban development project. For us, it is obvious that a project that is so valuable to Randers must be achieved with the best possible financial and urban-planning framework conditions. Our task will therefore be to find and disseminate the potential and synergy effects in the tension field between urban life, climate adjustment and traffic," says Lasse Vilstrup Palm, head of department of C.F. Møller Landscape, about the project.

A vital holistic approach
"City to the Water" will open up the centre of Randers towards the water. The historical old Medieval town will become better integrated with the Gudenåen river and Randers Fjord, opening up new residential, recreational and activity opportunities in the Jutlandic town.

"Together with Randers Municipality and Realdania, we will focus strongly on holistic planning and broadly based solutions," says Lasse Vilstrup Palm.

"The project has a deliberate focus on viewing the Randers of tomorrow from a holistic, economically sustainable perspective, which is both interesting and visionary. This requires a holistic approach, with focus on incorporating the town and landscape's visual and spatial expression with Randers' vital infrastructure and climate-adjustment challenges," he says.


A "convincing and ambitious team"
In Randers, the steering group behind "City to the Water" is also very pleased with the outcome, and with C.F. Møller's winning bid.

"We picked this team for the project because, in a convincing and ambitious way, they will focus on how climate adjustment combined with infrastructural and overall economic assessments can created many new opportunities for the centre of Randers. We have great expectations that the preliminary survey will provide a strong basis for the coming town council decisions on the town centre's development for the next many decades," says Hans Nikolaisen, municipal director of Randers Municipality, in a press release from Realdania.

The preliminary survey will run until the summer of 2015 as the basis for the path Randers Municipality will take to achieve better integration of the town centre with the fjord and river.


Read more on Realdania's website
See the full press release here