C.F. Møller with a bid for the Gustavsberg of the future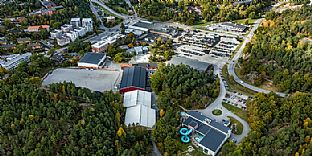 15.1.2016 | Värmdö Municipality in Sweden has selected C.F. Møller, together with Tredje Natur and Rambøll, to take part in a parallel assignment on the future urban development of Gustavsberg.
Among 38 requesting teams C.F. Møller has been selected to give its bid for how the port area and central parts of Gustavsberg in Sweden should be developed during the coming years.

"It's wonderful that so many so well-qualified parties have made a bid for this assignment," says Anders Gullander, chairman of Värmdö's Municipal Planning Committee.

"This also shows how Gustavsberg today is a very interesting area to help to develop," he explains.

Four sub-areas are the key
Initially, the concrete task will be a parallel assignment in which four teams can give their bids for how four sub-areas of Gustavsberg can be developed. These are the urban park, the centre, Kråkberget and Vattentornsberget.

Within the competition areas, plans will be made for homes, businesses, offices, nursery schools, community halls and homes for the elderly. A new city park is planned, with exciting and interesting meeting places. The port area will also be interconnected with the centre and the other areas of Gustavsberg via a green belt.

The result of the parallel assignment will form the basis for the coming detailed planning of Gustavsberg's urban development. Besides C.F. Møller's team with Tredje Natur and Rambøll, Kod Arkitekter, Mandaworks/Adept and White have also been selected to take part in the parallel assignment.