C.F. MØLLER'S LEADERSHIP BOOST IN PLACE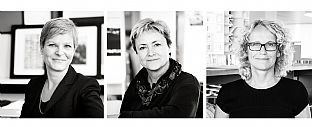 18.8.2015 | C.F. Møller has appointed Jette Østergaard and Mette Lyng Hansen as director of the group's head office in Aarhus and the Copenhagen department, respectively. Lone Bendorff Farrell is taken on as Senior Legal Manager.
There is a boom in Danish architecture. This is apparent at C.F. Møller too, where the in-house organisation is undergoing a consolidation process.

Jette Østergaard is nominated director of the group head office in Aarhus (Denmark), while Mette Lyng Hansen becomes director at the studios in Copenhagen.

"These appointments are intended to bolster the company's development at a time when C.F. Møller is involved in many large and complex projects," explains CEO Klaus Toustrup.

Reinforcing the leadership
C.F. Møller is currently riding on a wave of success. The company has recently announced an unprecedented level of activity with projects in progress covering more than one million square metres. The new management appointments are intended to ensure, among other things, that positive development continues.

"By employing two new directors, we aim in future to continue to make our mark on urban development with distinctive and ground-breaking projects," says Klaus Toustrup.

"The new directors will help to bolster C.F. Møller's management team and boost client contact. By taking these steps, we will continue to impact large, complex tasks in Denmark and be in a position to focus more on developments abroad," he says.

More competences in-house
The pool of in-house competences at C.F. Møller is also being widened. C.F. Møller has hired Lone Bendorff Farrell as the group's new Senior Legal Manager.

She brings a wealth of international legal experience to the company. She will be a strong player in the management team, and is expected to play a key role in developing C.F. Møller's services, competences and methods.

Lone Bendorff Farrell was previously employed at Gorrissen Federspiel (law firm) and Vestas (wind turbine manufacturer).