Construction starts for new Mascot HQ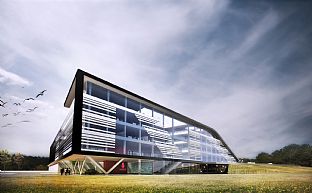 2.11.2015 | A week after Saint Gobain's logistics centre, Logstar, won the Randers Municipality Architecture Award, construction starts on the new combined HQ and logistics centre for Danish Workwear giant Mascot International on the motorway between Silkeborg and Herning.
The new 27,000 m² (10,000 m² administration and 17,000 m² highbay storage/logistics) domicile brings together Mascot International's Danish activities in a building, which emerges from the terrain as a dynamic, tapered shad with a transparent main façade facing the motorway.

Passers-by will be able to see the inner activities, the offices, the auditorium, gymnasium and at the very top a roof garden and canteen with a panoramic view of the area. All facilities are placed around an atrium, cutting down through the building and creating a common platform for the internal workflow involving all the different branches of the company - a bright, open and dynamic environment.

In front of the main façade, a terraced garden with water pools will be laid out, collecting rainwater, reflecting the building and underlining the main entrance.

The HQ is designed by C.F. Møller Architects and C.F. Møller Landscape in collaboration with engineers Midtconsult for Mascot International A/S, and is expected to complete in 2017.