Danish design to light up Copenhagen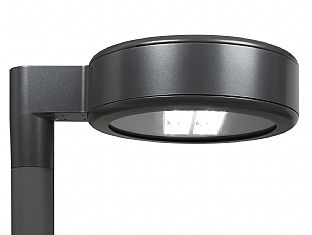 3.9.2014 | Lunia, developed by C. F. Møller Design for Swarco Denmark A/S, is a new LED road luminaire designed to fit into many different urban environments. Now, Lunia has been selected as street light for the municipality of Copenhagen, in dialogue between the municipality and the French lighting company Citelum who will install around 8,500 units in 2014-15.
The City of Copenhagen has recently signed an agreement with Citelum, which is one of the leading global street lighting contractors, to replace more than 20,000 old lighting fixtures with energy efficient LED light sources. This will halve the energy consumption for street lighting.

The City of Copenhagen is already state-of-the-art in terms of sustainable solutions. Now the council has the objective to provide city residents the most sophisticated street lights in the world based on wireless intelligent control, in terms of energy savings, aesthetics, design and lighting quality.

The many luminaires will primarily be set up in Copenhagen residential streets and minor roads, in and around the inner suburbs. Lunia can be controlled wirelessly via a transmitter, so that the illumination can be continuously adapted to the needs of a given area all day round. This minimizes energy consumption and light pollution, while improving safety and security.

In addition to design quality and sustainability, Lunia is also characterized by a strong focus on operations and serviceability, including health and safety for operating personnel; and as a special feature, Lunia is prepared for different future scenarios: The fixture can responsively relay i.e. traffic information, by means of a colored, glowing ring on the underside. This can transform the luminaire into an active signaling device, which can serve as a marker of traffic intensity, events, marking the bus stop locations etc.