Design for Stockholm's former Gasworks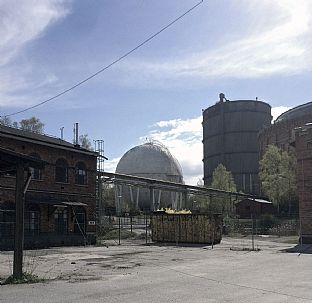 1.6.2015 | C.F. Møller Architects is invited to design a proposal for housing, offices and retail in the former Gasworks area in Stockholm. The project provides opportunities to create exciting architecture and quality public space in a unique context in Stockholm's Royal Seaport district.
The new Royal Seaport district is defined by a strong environmental profile, and a carefully designed transition from urbanity to nature. The project includes three floors of commercial and office spaces, topped by housing with access to natural light and views over the city and nature.

The unique project opens up an urban area that until now was not accessible to the public, and the clients Åke Sundvall and J.R. Kvartersfastigheter have set the framework for a world-class architectural transformation of the historical environment.

The site will be transformed with a holistic concept, aiming to create a new destination for the entire city, including public activities and functions like music, food and culture that will re-use the gasworks area's historical industrial building and environments. Local services and shops will also be integrated into the structure.

Historical context
The Gasworks area's original buildings and urban plan were designed by Ferdinand Boberg. The first gasometer was completed in 1893, and the area developed over the years and came to contain 5 gas containers and about 30 other buildings, which together constituted a rational gas plant for all of Stockholm. This industrial character pervades both the existing buildings and the spaces between them.

Among the other projects in the Gasworks area are the gas container 1, which is planned to be converted into a music-themed hotel, the gas container 2, which will developed into a cultural stage and the site of gas container 4, which will accommodate a 140m tall residential tower, with room for more than 300 apartments. This unique combination of programs, combined with careful renovations of the historical brick buildings for commercial, culinary and creative activities, will help to make the area an exciting future destination.

C.F. Møller Architects is already working on several projects in the Royal Seaport district, including the Zenhusen townhouses and Värtaterminalen, the new ferry terminal for Silja Line.
See more about the Zenhusen housing
See more about the Värtaterminalen