FRIENDS ARENA RECEIVES A PRESTIGIOUS AWARD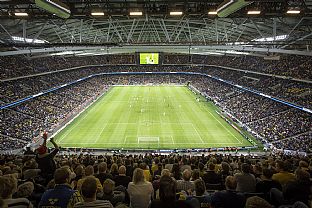 28.10.2015 | C.F. Møller's Swedish national arena has received the prestigious IOC/IPC/IAKS Award - the world's most important international architectural award in the sports world.
"Friends Arena in Stockholm is an impressive modern stadium whose multi-functionality ensures intensive use."

This is the introduction to the grounds for the bronze award to Friends Arena, designed by C.F. Møller, at the IOC/IPC/IAKS Awards this week.

Friends Arena is a fifth-generation arena, marking the start of the development of a whole new quarter in Solna, Stockholm. Today, this quarter includes not only the arena, but also thousands of workplaces,
serving as one of the largest commercial venues in Scandinavia. It features both new infrastructure and new residential areas. Friends Arena is the central generator of this development.

The ideal arena
"Besides serving as a stadium for national events, the arena is also the venue for concerts, etc. – all year round – thanks to the retractable roof. The steep, compact standing room terraces and the intelligent overall design of the arena combine to create the ideal stage for grand events," is the comment on the award.

The award was presented during IAKS' grand gala dinner at the annual IAKS conference in Cologne. The gala dinner is the big highlight during the four days of the conference, which is an opportunity for the world's leading sports facilities experts and suppliers
to meet to discuss trends and best practice within the construction, management and operation of everything from arenas to schools, universities and public squares.

Friends Arena is Sweden's national stadium, with capacity for up to 65,000 spectators. The arena was inaugurated in 2012, and is designed by C.F. Møller in collaboration with Krook & Tjäder architects for the Swedish Football Association, Solna Stad, PEAB, Fabege and Jernhusen.

The IOC/IPS/IAKS Awards are presented every second year for the most distinguished sports facility in the world. The award honours unique buildings, sustainability, functionality and visionary design and architecture.