Generous homes between city and nature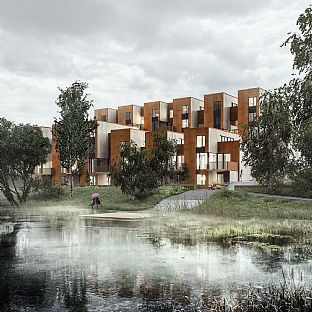 27.4.2015 | 18 townhouses designed by C.F. Møller for Stockholm's new eco-district Norra Djurgaardsstaden are now on the market, offering a strong combination of low-energy solutions and Nordic materials - both in terms of facade, interior and landscape.
The development, named Zenhusen (the Zen Houses), is part of a large urban development project to transform a former industrial area on the harbour of Stockholm into the city's new high-profile environmental area called Norra Djurgaardsstaden.

The 18 homes stand right on the edge between the city and a nature reserve, neighbouring a former gasworks turned into a cultural centre and the Husarviken stream. The architecture is inspired by the gasworks' red bricks and simple geometry as well as by the area's green qualities, characteristically expressed in the warm tones of weathering steel facades combined with lighter wooden facades.

Through the ingenious and rational composition of simple volumes, the resulting homes all are bright and transparent, featuring double height living rooms with visual contact to the sea and nature. Together with the other housing developments in the area, a democratic space for all ages is created, for play or recreation in green surroundings. In addition to the larger landscaped community areas, residents have access to private patios, roof terraces, balconies and a more intimate, planted courtyard.

The aim of the Norra Djurgaardsstaden district is to adapt to global climate changes, so that in 2030 the district will no longer make use of fossil fuels, resulting in strict energy savings demands for each building. In addition to minimizing energy consumption, the Zenhusen development features quality materials that add a Nordic feel, and age beautifully and are pleasant to see and touch - both in terms of facade, interior and landscape.

The Zenhusen development is the result of a competition, won by C.F. Møller in 2010, and is being realized in cooperation with the client Bygnaddsfirman Erik Wahlin AB and landscape architect Ulf Nordfjell.
More about the Zenhouses development
Visit the Zenhusen website