Groundbreaking ceremony at Aarhus Business College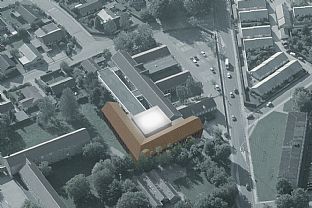 6.1.2016 | Expansion of the college in Viby has begun. In one year's time, Aarhus Business College will have optimised, improved conditions for its 1,100 students.
Aarhus Business College is to be expanded for a budget of DKK 58 million. To accommodate the 1,100 students, which will be the college's total intake as from the summer of 2016, 15 new classrooms, a new and larger canteen and a new auditorium with capacity for 130 students are to be established. As client adviser, C.F. Møller created the project for approval by the authorities, and the work is now to be undertaken as a turnkey contract.

C.F. Møller designed the expansion of the business college, for which the groundbreaking ceremony was held on Tuesday, 5 January. The Chair of Aarhus Business College, Karina Boldsen, turned the first sod in the hard winter ground.
The expansion is in harmony with the original college, and the site's varying levels have been used to optimise e.g. the auditorium's location on the site. This building completes the flow of the overall complex, ensuring that Aarhus Business College presents a holistic profile.

Bringing students together
"Today, we are celebrating our vision, and the fulfilment of our dream. A dream of bringing our physical environment up to a higher level. This is a big day for us. I am proud that we can celebrate this success, and that we are able to grow and launch a construction project on this scale. With this expansion, we are combining modern teaching, classical disciplines and innovative thinking," said Gitte Nørgaard, Director of Aarhus Business College, at the groundbreaking ceremony, as reported by Aarhus Stiftstidende.

For many years, Aarhus Business College has been spread across several sites in Aarhus, so that the main reason for the expansion is to gather upper secondary school students from two large upper secondary schools. This will reinforce academic standards and attract skilled teachers, Gitte Nørgaard emphasises.

"We also hope that the new complex, which makes the upper secondary school even larger, can help to boost the social community. So I hope this will give us the best of both worlds," said Gitte Nørgaard.

The plan is for the expansion of Aarhus Business College to be completed in one year's time. The construction work is undertaken by the turnkey contractor Jakobsen & Blindkilde in cooperation with Pluskontoret and Alectia.