International Award for the Hospice Djursland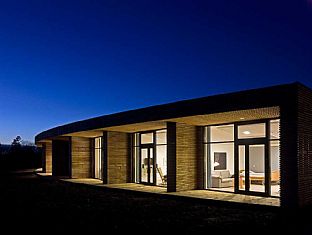 29.10.2014 | On the occasion of the 23rd Congress of the International Federation of Hospital Engineering (IFHE), held in Buenos Aires this month, the Hospice Djursland was declared a winner of the International AADAIH-IFHE Award for architectural quality in healthcare buildings.
The purpose of the award is to highlight healthcare designs proposing new and better avenues, and to encourage the appreciation of architectural design and spatial quality in buildings highly linked to functionality and technology.

The IFHE congress was facilitated by AADAIH, the Argentinian Association of Health Architecture and Engineering. The purpose of the congress was to focus on the Planning and Design of Buildings for Health with emphasis on the topics sustainability, humanization and new scenarios. This included the concept of sustainability addressed from different points of view: economic, social, cultural, environmental, and a holistic approach to the patient and new health assistance proposals, respectful of cultural diversity.

The Hospice Djursland was named winner of the category "new work not exceeding 5000 m2", by a jury composed of Arch. Alberto Marjovsky (Chair), Arch. Per Christian Brynildsen (Norway), Arch. Luis González Sterling (Spain), Arch. Miguel Jurado (Argentina) and Arch. Aníbal Martínez (Sponsor).

The Hospice Djursland is a palliative care facility with room for 15 patients, set in a beautiful landscape overlooking the Bay of Aarhus, near Rønde in Denmark. The hospice is designed not as an institution, but rather a home which provides adequate physical and mental space for those who will live there in their final time, as well as for their relatives and the staff, and has previously been awarded the British Civic Trust Award in 2012.
More about the IFHE Congres 2014
More about the Hospice Djursland