Mascot has launched the construction of its new head office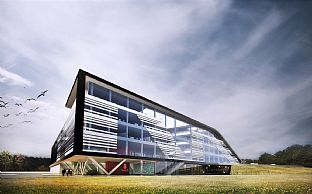 15.6.2015 | 30,000 m² will be the setting for the workwear giant's new head office. C.F. Møller has designed the office and warehouse building, to be located west of Silkeborg.
Six Silkeborg addresses will become one in autumn 2015 when Mascot turns the first clod for the construction of its new head office. The company MJT will manage the project to achieve C.F. Møller's integration of 10,000 square metres of administration with 20,000 m² of automated high bay warehouse capacity.

A striking landmark
This new complex will be a striking landmark at the motorway between Silkeborg and Herning, where it crosses highway 13 between Vejle and Viborg.

The building will be located on a 440,000 m² rural site, rising up from the ground as a dynamically elevated structure. The main façade towards the motorway will be transparent, with views of the internal activities such as showrooms, office facilities, an auditorium, fitness centre and, at the top of the building, a rooftop garden and canteen with a panoramic, 360-degree view. In front of the main façade there will be a terraced water garden, with basins to collect rainwater, mirroring the building and further emphasising the main entrance.

With Mascot's new head office, C.F. Møller is continuing its longstanding collaboration with strong Danish textile companies, ranging from Fabrikant Aage Damgaards Skjortefabrik, which was converted and now houses Herning Art Museum, to the TEKO design and business college, as well as head office and warehouse facilities for companies such as Egetæpper and Bestseller.

Back in 2011, C.F. Møller won the two-phase competition for the Mascot head office project, beating competitors from Henning Larsen, 3XN and Årstiderne Arkitekter.