Masterplan for the Christiansholm island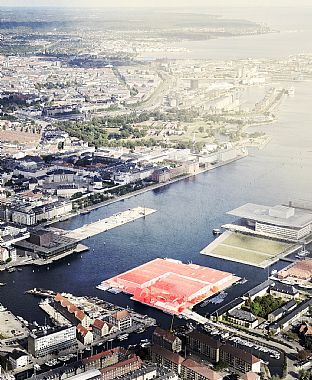 3.6.2015 | CPH City & Port Development has shortlisted C.F. Møller in collaboration with Tredje Natur to compete in a strong international line-up for a new master plan for the Christiansholm island in the central Copenhagen waterfront.
Most of the area for many years was inaccessible and served as paper storage, hence the nickname "Paper Island". As one of the most interesting locations and the only remaining 'pristine' quays on the Copenhagen waterfront, the competition represents a unique opportunity to plan a contemporary and lively urban district, with a particular focus on the recreational potential of the quays and the port.

Since 2013, the site has been in temporary use, and has already generated a vibrant urban dynamic. Based on this, the new plan will set the framework for a vitalizing, sensual and original urban quarter, which can take advantage of the historical heritage yet not be limited to the traditional perception of the port's use and appearance.

CPH City & Port has selected from a total of 34 applications and has chosen 7 teams to compete for the Christiansholm masterplan. The six other teams are led by Henning Larsen Architects, Cobe, Adept, Holscher and Polyform, MVRDV and OMA, respectively. The competition is expected to be launched in the autumn of 2015.