New BIM Type Coding for Better Processes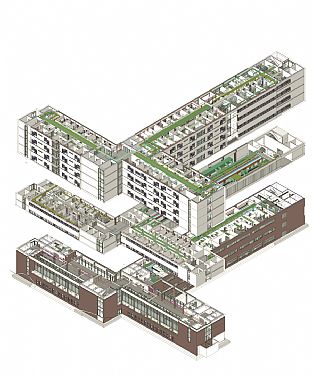 28.10.2014 | With today's launch of the BIM7AA type coding, 7 architectural practices from Aarhus have jointly developed a simple, operational coding structure that supports workflow, liability and scope of services, freely available for all to use.
Based on the current Danish super-hospital developments, seven leading architectural firms in Aarhus have formed the workgroup BIM7AA, in association with the Aarhus School of Architecture. The workgroup is a forum to review and discuss the optimization of BIM processes, as well as to develop in-depth analysis of the BIM process' impact on these billion-euro projects.

The first results of these meetings and workshops are now freely available to clients, client consultants, architects, engineers and anyone else interested in the construction industry. In other words, the type code is available to be used by everyone.

The BIM7AA type coding is a simple, operational coding structure for BIM objects based on the consultants combined experiences, Danish building codes and "best practice" from simple to complex BIM projects. The structure of BIM7AA is in many ways a modernization of the familiar and proven SfB system, adapted to the way we currently handle BIM projects. The type code structures the correlation between building objects, quantities and tender lists, specifications and interface definitions.

Using BIM7AA achieves a simple standardization of consultants' internal work processes in small and large projects. To ensure a holistic product, with all disciplines represented, highly qualified ICT / BIM-savvy representatives from four engineering firms and two landscape architects have been involved in the development work regarding structural, mechanical/HVAC and electrical engineering as well as landscape design.

The seven offices are: aarhus arkitekterne / AART Architects / Arkitema Architects / C.F. Møller Architects / CUBO Architects / Friis & Moltke / schmidt hammer lassen architects.

The type code encompasses the following disciplines: Architecture / Structures / Plumbing / Ventilation / Electrical / Landscape. BIM7AA collects experiences and feedback for further updates of the type code.

C.F. Møller has since 2004 helped to define how the industry uses BIM as a tool, and we have been active in the Danish development project "Digital Construction". Today, all our projects are BIM projects, and all our project managers work with this method. The new type code is already implemented in C.F. Møllers' processes, and gives us the necessary scope to plan and execute optimal BIM construction projects.