New exhibition applauds groundbreaking C.F. Møller architecture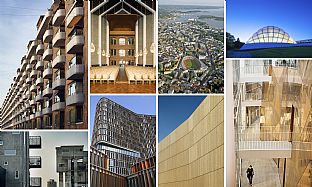 9.10.2015 | The Danish Architecture Centre is currently exhibiting 100 building projects, which have contributed to the creation of Danish architecture's world-class image.
Vestersøhus, Bislett Stadium, The Maersk Building, Bestseller's Logistics Centre, the Technical Faculty at the University of Southern Denmark, Henius House and the Greenhouse in the Botanic Garden at Aarhus University.

The name C.F. Møller tops the list of contributors to the Danish Architecture Centre's new exhibition, entitled "Groundbreaking Constructions – 100 Danish breakthroughs that changed with world".

"We are proud to have succeeded in maintaining and making our mark on developments in Danish architecture for almost a century. Our success bears witness to our forward-looking approach and to the fact that we create architecture that stands the test of time," says Klaus Toustrup, CEO at C.F. Møller.

Opens on Culture Night
The Danish Architecture Centre's new exhibition opens on Friday, 9 October at Strandgade 27B in Copenhagen, Denmark. The exhibition focuses on breakthroughs in the history of construction that set new standards for architecture and changed our perception of what constructions can do for people.

"Constructive art is, as the term suggests, an art form. Architecture is, however, applied art, which makes its impact only when people experience it in real life – as palpable buildings," says Kent Martinussen, CEO of the Danish Architecture Centre.

And this is true of the many C.F. Møller projects featured in the exhibition. The buildings, which range from Vestersøhus (a functionalist housing block built in the 1930s) to the almost finished Maersk Building (an extension to the Panum Institute), have won many Danish and international distinctions, while Henius House (youth residences in Aalborg) won the Danish Prefab Concrete Award and Utzon Statuette in early 2015.

Copper art under the microscope
As part of the exhibition, C.F. Møller and the Danish Architecture Centre will offer a guided tour of the Maersk Building construction site.
On 11 November from 16.30-18.30, partner and architect responsible for the project, Mads Mandrup Hansen, will host the guided tour. He will put the copper-clad façades under the microscope and describe the building's organic form in some detail.

The exhibition "Groundbreaking Constructions – 100 Danish breakthroughs that changed with world" is open from 9 October 2015 until 3 January 2016.
Read more about the exhibition here
Read more about the tour at the Maersk Building