NEW HARMONY IN BIRK CENTERPARK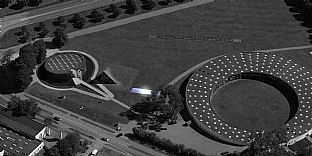 18.9.2015 | Carl-Henning Pedersen & Else Alfelts Museum has undergone yet another transformation, extending the museum and creating exciting new interfaces in the iconic Birk Centerpark. The new extension will be officially opened on Saturday, 19 September.

Carl-Henning Pedersen and Else Alfelts Museum in Herning, Denmark, integrates art and architecture in colourful, sculptural forms. The art museum is built up around a large collection of works by these two artists, husband and wife, who were both active in the Cobra movement.

The museum's circular main building is clad with blue ceramic tiles decorated with Carl-Henning Pedersen's colourful mythical beasts. It was built in the park around art collector Aage Damgaard's shirt factory, which became an art museum in 1976. The triangular prism was built as an extension to the museum in 1992-1993. Since 2009, the museum has made use of extra space available at the adjacent HEART Herning Museum of Contemporary Art.

The most recent extension, built entirely below ground, connects the three buildings. The new building is an appreciable extension of the exhibition area and creates a new route through all the buildings. Above ground, the only sign of the extension is a 15-metre long window in the lawn, which brings daylight into the new exhibition areas.

"This extension is the final piece of our vision – it amalgamates the museum with the old Angli factory, which was the birthplace of modern Art thinking in Central and Western Jutland," explains Finn Poulsen, who has been Chairman of the museum for the last 14 years.

The extension came about thanks to Carl-Henning Pedersen's second wife, Sidsel Ramson, New Carlsberg Foundation, Augustinus Fonden (both charitable foundations) and Midtjysk Skole- og Kulturfond, a third charitable foundation, which donated the land.

C.F. Møller were the architects who masterminded not only HEART Herning Museum of Contemporary Art (in the Angli shirt factory) and Carl-Henning Pedersen & Else Alfelts Museum, but also the latest extension created in partnership with Midtconsult (consultant engineers) and CC Contractor (turnkey contractors).