New Health Centre in Brønderslev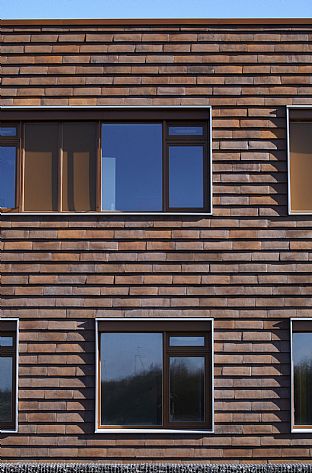 23.3.2015 | The North Denmark Region wishes to attract more physicians. One of the region's initiatives is a number of health centres in North Jutland, which will form the basis for unique professional health communities - and simplify access to health care for all the region's citizens. The latest is Brønderslev's new 5,000 m² health centre, designed by C.F. Møller, which has just been delivered on an open landscape site at the northern border of the town.
The centre houses both local and regional services, and besides practitioners it will be a workplace for four specialists and a number of the Brønderslev Municipality's health and rehabilitation functions, including 4 training halls for that purpose. The North Denmark Region will let the remaining approximately 3,000 m2 with about 57 clinic rooms out to specialized and general practitioners. The house's shared facilities include a reception, café, staff changing rooms and roof terrace for the staff.

The central lobby gives access to the eastern regional part and the western municipal part respectively, both of which are organized around an inner courtyard, ensuring air and light to the interiors of the two storey health centre. Outside, the building is clad in fired terracotta tiles that fit well with the earth tones of the landscape, coupled with precise facade carvings that add refinement to the simple volumes.

When it comes to energy and sustainability the new health centre meets the most ambitious objectives: The building is certified as DGNB-DK silver level, and complies with the strict energy class 2020. The construction is the Brønderslev Municipality's first building with a Danish sustainability certificate.

The clients are the Brønderslev Municipality and the North Denmark Region jointly. C.F. Møller and C.F. Møller Landscape in collaboration with engineers Moe have been responsible for the design, and the centre was delivered as a turnkey project by HP Byg acting with sub-consultants KPF Arkitekter and COWI.