New homes in one of Odense's best locations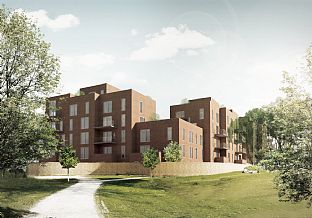 22.10.2014 | In the heart of Odense, C.F. Møller has designed the new Klosterbakken housing which brings a new quality to the urban area while respecting the character and architectural motifs of the historical site.
The site lies where Klosterbakken (Cloister hill) forms an arc along the H.C. Andersen Gardens (also known as Fairy Tale Gardens), one of Odense's most popular green spaces, and has a direct relation to the beautiful Odense Cathedral, City Hall, and Flakhaven; Odense's central square.

The history of the site dates back to approximately 1874, where the Munke Mølle Clothing Factory was established in the grounds, which back then was like an island in the Odense river. Today, the river runs along Klosterbakken, adding to the scenic surroundings, making it one of the city's most attractive areas; close to several of Odense's most beautiful urban spaces and historically interesting buildings such as the former Sct. Knuds Abbey.

The project revitalizes the city by transforming the plot, which is currently used as a parking lot, from a visually uninteresting space into an attractive new urban environment. The design takes into account the unique location, by creating a common thread between the new and the historic environment, and using red brick, which is also the dominant facade material of the surrounding historic context.

The architectural concept is inspired by the typology of the "monastery" and interprets the architectural designs that already exist on the site. The complex is laid out as an enclave of brick buildings, enclosing a common courtyard that opens up to the south. The buildings are extrovert, with good contact to the cathedral, the river and the H.C. Andersen Gardens.

The apartments range from 94 to 271 m², across 10 different types of homes, several of them on two levels, and all with access to quality outdoor spaces. The upper apartments have large roof terraces with stunning views, and all the floorplan layouts are unusually spacious, with generously sized rooms and living areas.

The ca. 4000 m² development has been designed for the developer Arkitektgruppen.