New Villa in Aarhus Revealed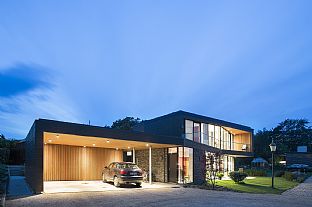 22.12.2015 | Villa U is a two-storey single family home near Aarhus located in beautiful surroundings with scenic views.
The house, which takes full advantage of the view and its proximity to nature on three sides, is organised around a tall double-height central space with sky-lights, accompanied by a sculptural staircase and brick fireplace offering ample space to exhibit works of art. This room is the heart of the house, tying together every room with open views spanning both floors of the home.

The ground floor and upper floor are designed as mirrored parallelograms, creating a vast array of open and covered terraces and niches on both levels, framed by a facade of dark patinated zinc with a warm-toned inner lining of hardwood mouldings.