Nominated for Education Building of the Year 2015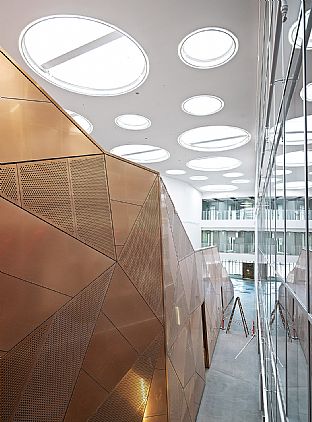 14.9.2015 | Only a few weeks before the inauguration, the Faculty of Engineering in Odense is revealed as a nominee for this year's "Education Building of the Year" award.
The Faculty of Engineering (Technical Faculty) is part of the University of Southern Denmark (SDU) in Odense, and constitutes a shared research and education environment for four different institutes. The building is designed as one big envelope consisting of 5 buildings connected by bridges at multiple levels crossing the heart of the complex, a "piece of furniture" containing common functions and meeting-rooms, and café/lounge areas. The many connections allow for more fluid boundaries, and more community and knowledge sharing.

World-class innovative Research Environment
The new building is making a bold statement on the campus of the University of Southern Denmark in Odense, blending in and standing out at the same time with its unique façade and innovative interior layout for cutting-edge research: The four institutes sharing the building are conducting world-class research in various fields such as material and construction science, nano-optics, environmental sciences and robotics.

The interior layout creates great flexibility, by a combination of solid cores and sliding wall system for adaptable sub-divisions depending on group sizes. The larger labs are located on the ground floor, for easy access to the terrain and opportunity for outdoor activities.

Unique facade
The building is shrouded in an external screen or veil revealing and shading the transparent volume. The elegant and seemingly weightless screen is made from pre-fab panels of white CRC concrete (Compact Reinforced Composite, a special type of Fibre Reinforced High Performance Concrete with high strength) featuring circular openings with an underlying solar screen and natural ventilation.

The Technical Faculty is to meet the requirements for low energy class 2015 according to the strict Danish building codes. This means minimal energy consumption, good indoor climate and use of materials with a low environmental impact in a life cycle perspective.

The winner of the Education Building of the Year 2015 will be decided by a public vote, which is launched on 14 September and runs until 25 September. The winning scheme will be announced at the conference on Construction of Schools of the Future, to be held in Copenhagen on September 30 - to vote please click HERE or follow the link below.

The 21.000 m² Faculty of Engineering is designed by C.F. Møller Architects in collaboration with Schønherr Landscape and engineers MOE for the Danish Universities & Building Agency and the University of Southern Denmark. The official inauguration will be on September 30, the same day as the winner of the award is revealed.