Oceanhamnen urban archipelago in Helsingborg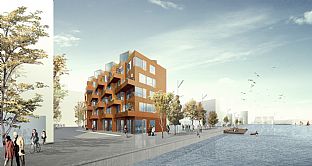 22.1.2015 | C.F. Møller Architects in collaboration with Byggfast have developed two proposals for multi-family dwellings in the Ocean port quarter in Helsingborg in Sweden. The new district is envisioned as an "Urban Archipelago", and marks the beginning of the ambitious port conversion development called H+.
H+ and the Ocean port quarter has the vision of creating a creative and sustainable district - socially, environmentally and financially. Innovation and architecture that represents state-of-the-art ideas, knowledge and technology can become reality here.

The individualized and subdivided facades of the residential buildings contribute to a dynamic and vibrant urban space. The two proposals of approximately 9,500 m2 optimize sight lines, daylight, microclimate, urban qualities and enable an exciting interface between residential buildings and streetscapes.

The residential buildings are designed for individual expressions, while their ecological footprint will be minimal, with the goal of achieving passive house and/or plus energy (active house) standard, and they are proposed as timber structures to achieve a positive life cycle analysis and minimal impact on the environment.

The courtyards, roof terraces and the surrounding streets are the residents' outdoor environment and important places for recreation and meetings, and integrate new forms of nature in urban landscapes. The sculpted roofscapes give room for greenery, on-site energy production and recreation for the residents.

The proposal also includes an ambition to reinstate the commuter boat "KVICK" with electric power and solar cells, which in combination with a café can be a unique attraction for the city and will attract more Helsingborg citizens and other visitors to the "Archipelago".