PRE-QUALIFIED FOR DENMARK'S LARGEST WELFARE CENTRE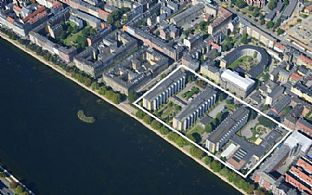 23.9.2015 | Samvirkende Boligselskaber (housing association), KAB (housing administration company) and The City of Copenhagen have announced that C.F Møller – working with Tredje Natur, Transsolar and Bascon – has pre-qualified to enter the architectural contest to design Fremtidens Sølund, which will be Denmark's largest welfare centre. It will be built on the banks of Sortedamssøen lake in central Copenhagen.
Covering an area of about 38,000 m², Fremtidens Sølund is an ambitious project. The centre will offer sheltered housing, a childcare institution, housing for young people and collective housing schemes for senior citizens.
It will be a flagship for the latest welfare technologies and provide a framework for inter-generational communities in this part of the city.

Prioritises community spirit
Fremtidens Sølund will be a place where senior citizens, young people and children not only live close together, but also supplement and benefit from each other. The centre should also allow the different social groups and individual members of the public, if they wish, to take a back seat. While the architecture will provide a safe and healthy home environment and effective workplaces, it will also make a life-giving contribution to this district of the city.

KAB/SAB and the City of Copenhagen have evaluated a total of 22 applications and chose to pre-qualify five for the architectural contest. The four other teams are led by Henning Larsen Architects, Arkitema, Schmidt Hammer Lassen and KANT arkitekter A/S. The contest is expected to begin this week and entries will be submitted during Autumn 2015.