Prison of the Future Topping Out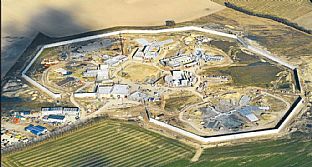 21.6.2015 | Denmark's new state prison in Falster recently held a topping-out ceremony, which marks that the structure of the innovative, manageable and re-socializing design is nearing completion.
The inspiration for the star-shaped form of the new prison was drawn from its location in a rural area of small villages of similar layout, and the complex is intended to provide a small, condensed urban environment with the kind of varied spatial experiences, functional density and clarity of layout that such an environment offers.

250 inmates in 10 buildings
It will have room for 250 inmates spread over almost 35,000 m2 in 10 buildings located on about 170,000 m2 of land with football facilities, a culture centre, shops and agriculture surrounded by a six-meter-high and 1.5 kilometres long wall.

In the centre are an administration building, occupation building and cultural centre with library, religious worship room, sports facilities and a shop. Radiating outwards from here are the wings – four ordinary wings and one high security wing – in a star shape, which ensures that all wings have a view of the landscape within the walls, but none have visual contact with each other.

Confidence in the community
The prison constitutes the whole world for the inmates, and the architecture within the prison walls is therefore an extremely important part of their lives and experiential universe. The varied and stimulating environment of different spaces and landscape features is intended to contribute to the resocialization of the individual and to create renewed confidence in the community and mutual respect for society as a whole.

The compact, urban structure means that there is space left for natural and cultivated areas and for the integration of sports facilities in the landscape within the perimeter wall. Each building in the entire complex has its own identity, and a plaza area and a sequence of streets bind the complex together.

The prison, which put the wreath over the topping-out ceremony last Friday, is designed by C.F. Møller in collaboration with engineers Rambøll, Marianne Levinsen landscape, designers aggebo & henriksen and safety consultants from CRECEA; and is being constructed by contractors with large participation of local labor. The new prison is built for the Danish Prison and Probation Service to replace the historic Vridsløse State Prison, and will be completed in 2016.