Quality affordable housing in NYE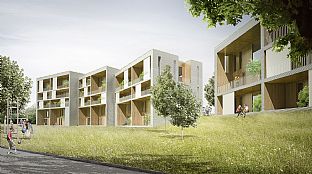 10.10.2014 | As one of nine invited architects, C.F. Møller has designed homes for the new urban development NYE, which will be built according to sustainable principles at Elev north of Aarhus.
The developer Tækker Group has prepared a masterplan for NYE which architecturally combines the best of the dense city center with the best of the green suburbs. NYE will be both green and lively, and a particular focus of the masterplan is quality spaces between the buildings.

Therefore, Tækker Group has invited nine leading Danish architects to design the first plots, in a collaborative process in which the urban spaces and architectural designs have been developed over a number of model-based workshops.

C.F. Møller's proposal for housing and retail along the future main street of NYE takes its cue from the plot's curved shape, and advantageous location on a south-facing slope, to create an elegantly ascending complex that rises from three storeys in the east to four storeys in the west, and emphasizes the contours of the landscape.

Along with the neighbouring buildings, designed by the architectural firm BIG, the complex forms a spiral movement toward a common public "blue square" which is a recreational water space as part of the wider area's storm water management.

The simple rectangular building volumes along the village street are rotated slightly relative to each other, so as to create protruding corners which allow views from the inside down the length of the buildings, and where the common access lobbies are logically located and easy to find.

The one- or two-level homes all have double aspects, and access to outdoor spaces in the form of gardens, balconies and/or roof terraces with green plant beds. The generous south-facing balconies bring light and air to the apartments, views of the Egaa Lake and bay of Aarhus, and also act as solar shading for the apartments.

The first stage of NYE will contain approximately 61,000 m² of buildings including shops, institutions and community centres, of which C.F. Møller's design account for about 7,500 m².
The other participating architects are CEBRA, Aart, BIG, JDS, Friis & Moltke, Hune & Elkjær with LOOP, Dorte Mandrup Architects and Tredje Natur.