Radical Housing Renovation Topping Out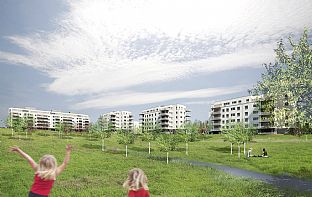 20.6.2015 | The latest stage in the transformation of the Varbergparken estate in Haderslev has just topped out, a renovation of four blocks that is the most radical change in an area that has already seen a number of significant changes.
Varbergparken, a social housing area with 508 homes in 15 blocks built in the period 1970-1980, is since 2003 undergoing a metamorphosis with a new overall concept; refurbished residential spaces, renewing energy systems and outdoor spaces, and new workplaces introduced in the neighbourhood.

Strategy of Variation
Varbergparken is beautifully situated in a hilly terrain. The new overall concept for the area includes improvements to the green outdoor environment and future-proofing all the apartments in terms of their architecture and sustainability. Rather than replace the uniform design expression of one period with a contemporary version of the same, the focus of the project is to introduce variation and diversity to the area by applying different strategies to each stage in the conversion of the individual blocks.

In addition to the overall redevelopment strategy, C.F. Møller has already been responsible for transforming several blocks into accessible low-energy homes, a new health centre and a senile dementia centre respectively, as well as designing new landscape spaces.

Radical quality boost
Now the turn has come to convert a number of previously contiguous blocks into free-standing residential buildings, which are oriented in several directions and open new passages in the landscape.

The severing of the three north-south oriented blocks also improves the daylight in the apartments, which at a width of 17 meters previously have been rather dark. Two extra floors are being added to these buildings - one full floor and a floor of penthouses. The majority of apartments feature corner balconies and multiple aspects.

The fourth, east-west oriented block also has an added penthouse floor, while all home layouts are converted to more modern specifications. This removes 51 of the original 129 homes, while in turn, 27 new apartments with an improved layout are established to create a total of 105 apartments ranging from 68 to 109 m² in the four blocks, which will take advantage or the prime views of the Haderslev city, fjord and pond.

The project by C.F. Møller and engineering firm Hundsbæk & Henriksen is being executed by contractor Egil Rasmussen, and construction is due to be completed next spring.