ROS Award for Vor Frue Plads in Aalborg, Denmark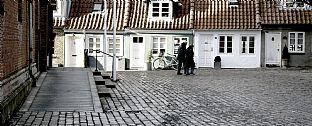 12.2.2015 | The transformation of Vor Frue Plads in Aalborg, by C.F. Møller Landscape and Vibeke Rønnow Landskab, has been honoured with the ROS Award for the successful conversion of the square between the church and the surrounding historical buildings.
The main aim of renovating the square around Vor Frue Kirke (the Church of Our Lady) in Aalborg has been to create greater aesthetic continuity with the city centre and the church's immediate vicinity consisting of town houses from the 1700s, more recent 20th century properties with two to three storeys, and a green park area.
Parking spaces, an asphalted road and pavements previously filled the space around the church. In order to introduce calm and visual clarity in relation to the church floor, the renovation of the square has created a simple and neutral patterned surface using granite cobblestones. The square is designed to create a cohesive space between the church and the buildings and park in the area, while also improving access for the disabled.

To the east, the church's apse is emphasised with a central band of cobblestones radiating from the façade's columns. West of the church, the main entrance is marked with
a surface of polished paving stones. Benches and plinths are placed south and north of the church, and four new linden trees have been planted. The existing street lamps have been retained.

The ROS Award will be presented to the councillor for Urban and Landscape Management, Hans Henrik Henriksen, by the Danish Society for Building and Landscape Culture in Aalborg, which works to disseminate knowledge of and an interest in aesthetic and historical assets in terms of buildings, urban scenes, and gardens and parks. The prize will be presented at the Society's annual RIS & ROS (Praise and Criticism) event on Thursday, 12 February, from 3pm to 5pm.