"THE ATTRACTIVE DOWNTOWN" IN GRENAA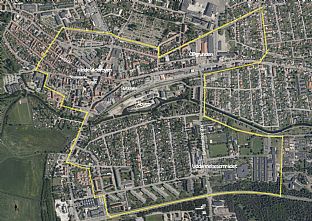 6.5.2015 | C.F. Møller, C.F. Møller Landscape and Orbicon have been prequalified for the idea competition for the preparation of an overall plan for "the attractive downtown" in Grenaa.
This idea competition is part of the area renewal project for Grenaa – The Living Town, which is an ambitious urban development programme initiated by Norddjurs Municipality in cooperation with the Danish Ministry of Housing, Urban and Rural Affairs.

The purpose of the "The attractive downtown quarter" is to create the framework for a vibrant downtown quarter for both the town's residents and visitors. The challenges of a changing commercial culture and empty shop premises will be included, so that the town can offer new activities and opportunities that attract residents and visitors to come to the downtown quarter, also outside the shops' opening hours.

Strong field of applicants
Norddjurs Municipality received a total of 18 prequalification requests from expert teams all over the country, and the selection process gave emphasis to convincing references from equivalent urban and urban space projects and holistic planning that span the expected complexity and dimensions of the holistic plan, as well as the ability to engage in constructive sparring with residents and the project's other stakeholders.

The team with C.F. Møller and Orbicon was selected for the task on the basis of their very convincing fulfilment of the required selection criteria. Two other teams, headed by landscape architect Preben Skaarup and Schønherr, have also been prequalified for the competition, which is expected to run during the summer.

C.F. Møller is currently working with several urban projects, including "City to the Water" for Randers Municipality, which is an equivalent ambitious long-term urban development project that will open up Randers' downtown quarter to the water, and connect the historical old Medieval town with the Gudenåen river and Randers Fjord.