The best social housing in the Nordics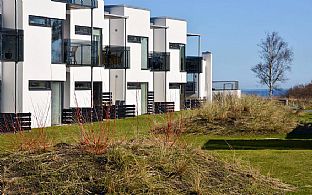 15.9.2014 | The Sæby Strand housing by C.F. Møller for the Frederikshavn housing association has won the NBO Housing Award, the Oscar of Nordic social housing developments, awarded bi-annually to an outstanding design that combines sustainability, quality of life and healthy finances.
Housing Nordic (NBO) is a non-profit association that was established in 1950. The purpose of the association is to promote contacts between affiliated organisations in order to exchange experiences and coordinate common interests. Together NBO's members represent more than 2,370,000 dwellings in Denmark, Norway, Sweden, Finland and Iceland. NBO has a vision of financially, ecologically and socially sustainable housing for everyone in the Nordic countries. It envisages the creation of opportunities for the improved growth of municipalities and regions, lively and safe residential areas and freedom of choice for residents who will also be able to influence and improve their living conditions.

The jury said:
"A new construction project, that makes the best of its unique location. The buildings with their well-proportioned facades and stepped rooflines enhance this. Energy consumption is low and the solar panels helps to reduce operating costs. The buildings contain a variety of apartments, which have quality natural finishes. The well designed apartments all have balconies or alternatively patios with views. The outdoor landscaping has very good physical accessibility. Investments in a low-energy school, access to the guest apartment and common areas as well as a strong local teneat's community all creates opportunities for increased social activities between the tenants. "

- Sæby Strand is a very good example of excellent Danish architecture with clean lines and exciting solutions, comments Kurt Eliasson, president of NBO and CEO of Swedish industry and association SABO.

The Sæby Strand (Sæby Beach) social housing development makes the most of a scenic site overlooking the Kattegat. The homes are distributed in four building volumes, and staggered to provide views and light to every single unit. All terraces and balconies are oriented towards the sea, and due to the angles of the volumes they all enjoy good privacy.

The exposure of the homes optimizes passive solar heating, due to relatively closed northeast elevations along which bedrooms and bathrooms are located, and more open south-eastern elevations with full-height glazing revealing open kitchens and living rooms.

The apartments, arranged as two, three and four bed units, are also designed to be flexible with possible reconfigurations of use. The development is low-energy class 2015 according to Danish building codes, with an energy consumption of less than 27 kWh/m2/year.

The award was presented at NBO's annual conference in Reykjavik, September 12, in front of 140 representatives from the Nordic countries.