Transformation of 70s prefab housing estate into a garden city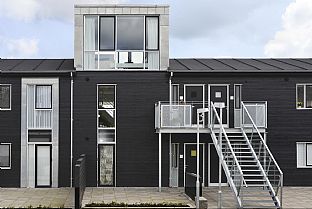 3.10.2014 | On 2 October, Himmerland Housing Association could mark the halfway stage of the renovation of its two sections 19 and 22. Craftsmen, technicians and other interested parties met to celebrate this milestone, and not least to admire the results of their efforts.
In cooperation with Cowi, C.F. Møller has drawn up a new master plan as the basis for the restructuring and renovation of the housing association. The conversion and renovation of 370 homes will transform the monotonous, prefabricated "crane track" buildings dating from 1977 into a welcoming and sustainable complex of buildings.

The timber-clad façades will have large windows, French balconies and bay windows, filling the homes with light and a pleasant outlook. Some homes are being combined into larger flats, while others are being expanded upwards as modern, two-storey roof-top flats with open spaces and glass from floor to ceiling.

Today, the renovated part of the building complex has been opened up and the blocks appear as row houses with small private gardens, in which people can feel secure without being shut in. Resident parking is available close to the homes and some homes even have a carport in conjunction with the front garden.

With the brick gables, black-painted timber cladding with glass sections from floor to ceiling, characteristic "roof boxes" and new light stairways in steel and glass, the building complex has left the 1970s behind, setting modern new standards for the renovation of public housing in northern Jutland.

All of the flats have been fully renovated, increased accessibility has been established and, via conversions and extensions, new types of housing have been established that were not previously among the range of flats offered by the association's sections. There is still a solid base of well-renovated two- and three-room flats, while the exciting new flats are available to new residents.
The activity building, which is well-appointed on the south-facing slope and will meet the requirements of low-energy construction in 2020, will be a natural gathering point for all of Himmerland Housing Association's sections in the area. South of the activity building, a small "wetland" will be established, with rain beds to handle increasing precipitation. The rain beds collect rainwater so that it does not have to be drained off.

Himmerland Housing Association wished the renovation to give emphasis to social sustainability, environmental sustainability, accessibility, openness, variety, diversity and identity. Via these requirements and expectations, it was possible to create a living building complex in which striking landscape elements and open front gardens with a strong separate identity can be used to navigate to your own "row house".