Vote for the British Home Awards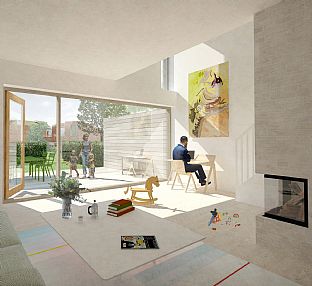 6.9.2015 | Shortlisted for the 2015 British Home Awards, 'The Hundred Year Home' is a contemporary reinvention of classic British home typology that seeks to make the everyday delightful and provide lasting residential qualities.
Designing affordable homes to solve Britain's housing crisis is one of the most important architectural challenges, and this is a chance to make a difference by supporting our design in the Homes for Britain design competition – please vote by clicking here or following the link at the end of the article.

Timeless quality
Taking inspiration from Victorian and Edwardian terraces, the design allows for flexible adaptation to the needs of the home in the distant future. We remain mindful of the needs of the present with a home where the latest technology is seamlessly integrated so the timeless qualities of proportion and light prevail and the open, adaptable and flexible plan minimizes circulation space whilst being accessible for all.

At the forefront of our considerations are the daily lives and wellbeing of owners, residents and neighbours by creating homes and a neighbourhood that is flexible and adaptable to help foster a less transient and settled community that is friendly and sociable.

Creating places
Responding to the outlined requirements for a density of 40 dwellings per hectare, the design achieves living spaces that are through-lit and exploit corner conditions by the simple device of slanting the plots and shifting the mass of the houses. The stepped massing gives an identity and attractive appearance to each home regardless of its configuration as terrace, semi-detached or detached typology.

We place a strong emphasis on creating a beautiful and delightful place to live that resonates with the historic craft tradition of the location and can be truly sustainable. Materials are selected to be robust and matures gracefully with minimal maintenance over an extended design life all realised through a timeless architectural expression.

The Homes for Britain design competition in this year's British Homes Awards is hosted by the Sunday Times, and the winning design will be built by Redrow – thank you for your support!

Click here to vote at the Sunday Times survey
See more about the "Hundred Year Home"