BIRTH OF A NEW CLASSIC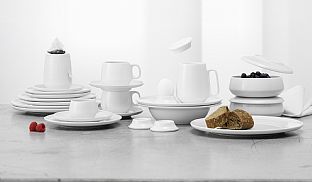 30.10.2015 | Danish aida and C.F. Møller Design are behind the successful, prize-winning ENSŌ tableware, which combines beautiful design with innovative solutions that make everyday life both more decorative and more enjoyable - and has just won one of the world's finest design awards.
A year has passed since ENSŌ from aida saw the light of day. Since then, the functional design has been stacked in a multitude of different ways, and the stacking trend has spread like ripples on the water. At the height of its success ENSŌ has just received the prestigious Designpreis Deutschland or German Design Award, which is known for spotting and recognising unique design trends. The jury, comprising a group of design experts from various sectors, not only fell for the exquisitely simple design, but also focused on the design's unique stacking solutions. They were quite right to do so, since ENSŌ can be used and combined in a multitude of different ways, giving new opportunities both in the kitchen and on the dining table.

Designed for a reason
Even though this design is attractive, stylish and a must for most Danish homes, its strong functionality is the main philosophy behind ENSŌ, which means circle in Japanese and is also a Zen Buddhist symbol of freedom, creativity and elegance. The plates can be used as lids, the saucers match all four types of cups, and each plate, bowl, cup or saucer can be stacked, so that the various elements can be used to e.g. store food in the refrigerator.

Besides the many different combinations, the design also includes other exciting features. The surface of the plates has been maximised, to give plenty of room for your dishes, and the design is also ergonomically sound: the small upward edge on the plates gives a better grip and the inward slope of the cups is not just as aesthetically pleasing solution – it also ensures that the individual elements are easier to hold and retain heat and aroma for longer. The cup lid also serves as a receptacle for teabags, and even as an egg cup.

The new classic
At aida they are so delighted with ENSŌ that they believe the series has the potential to become a new classic. "This is related to how we have become more quality conscious and wish to have designs that can do a bit more and last a bit longer," says aida's CEO, Peter Maae Jensen.
"We see the Ensō tableware range as aida's new Atelier – but at a higher level. Today, consumers have an even greater appreciation of quality, so we have created tableware that we believe will be viable for many years to come," says Peter Maae Jensen.