C.F. MØLLER WINS FRAMEWORK AGREEMENT WITH DSB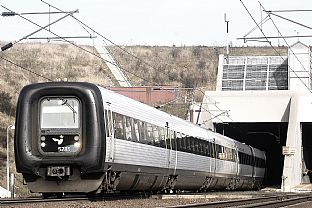 27.2.2015 | DSB (Danish railways corporation) has nominated C.F. Møller a winner of the architectural consultancy framework agreement for the corporation's buildings and systems in Denmark.
The corporation recognises that it has a consistent need for architectural consultancy in connection with DSB buildings that have to be reorganised, refurbished, restored or rebuilt. The agreement includes pre-existing facilities such as stations and the squares in front of stations, workshops and other facilities. However, it also comprises urban planning in connection with project developments.

C.F. Møller is one of three architectural firms selected as architectural consultants to DSB during the next four years.

Long-term project opportunities
DSB's property mass is diverse. The corporation's oldest building dates back to 1847. This and many other DSB properties are listed buildings and there are many preservation issues to consider. Over the years
many DSB buildings have been rebuilt and adapted to meet changing needs and purposes. DSB continues to develop – and the buildings must change to accommodate new functions. Tasks for DSB will, to a great extent, comprise rebuilding and adapting existing buildings.

However, in the future DSB will also have to resolve a number of tasks, in which architectural consultancy will be required, i.e. passenger facilities, railway platforms, external aspects of stations, terminal facilities, technical systems and site development issues.

Influence on both Danish and Norwegian railway networks
C.F. Møller is well equipped for the task. We have many years of experience of working on projects very similar to those in the DSB framework agreement. For example, C.F. Møller drew up the environmental impact assessments for the Aarhus Light Railway and we were actively involved in initial works for the Copenhagen Metro. We prepared the urban planning in connection with Aalborg Waterfront and Stockholm's Slussen, and we have restored listed buildings and other buildings worthy of preservation, including Jens Bang's Stone House in Aalborg and Aarhus Theatre.

During summer 2014, C.F. Møller's Oslo office won a four-year framework agreement for new InterCity projects in Norway. C.F. Møller will play a key role in one of Norway's biggest ever investments in the transport sector. The framework agreement covers modernisation of the Norwegian railway network to upgrade the railway network between Oslo and Hamar, and Oslo and Fredrikstad by 2024. Later (in 2030) the railway network to Lillehammer and Halden will be added.

In addition to C.F. Møller, two other architectural firms were nominated to provide services under the DSB framework agreement. These are Gottlieb Paludan Architects and PLH Arkitekter. The agreement will run for a period of four years. The parties have an option to extend the contract period by 2 x 12 months.