C.F. Møller wins the Carpentry Award 2015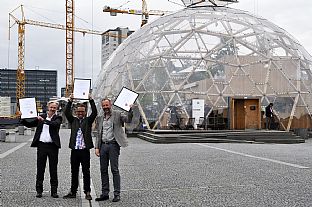 25.5.2015 | C.F. Møller Architects, represented by partners Mads Mandrup and Lone Wiggers, has been awarded the Danish Carpentry Award 2015 for proposing tall buildings in wood construction and disseminating of timbers ability to make construction more sustainable.
The purpose of the Carpentry Award, which is awarded by the Copenhagen Carpentry Guild, is to reward individuals, companies, organizations or builders who have performed or participated in a building where wooden structures and/or carpentry play a decisive role. The Carpentry Award may also be awarded to innovative and bold architecture, where wood is the main building component.

"Mads Mandrup is the responsible partner for a planned 34-storey residential building in Stockholm, while Lone Wiggers has been a dedicated and unbiased public communicator of both the Stockholm project and timber's general potential to make the Danish construction sector more sustainable", the committee's motivation reads.

In addition to C.F. Møller, the Carpentry Award 2015 was also awarded to Professor Poul Henning Kirkegaard, Aarhus University, and contractors NCC (represented by director Martin Manthorpe) for their efforts to promote timber product development and use of wood in construction.

The award committee is composed of Jan Søndergaard, professor at the School of Architecture in Copenhagen; Lars Ole Hansen, former chairman of the Danish Association of Construction Clients; Lars Storr-Hansen, director of the Danish Construction Association; Søren Larsen, vice alderman of the Copenhagen Carpentry Guild and Flemming Kjærgaard, alderman of the Copenhagen Carpentry Guild.
See the Carpentry Guild's motivation here
See the HSB 2023 Västerbroplan project here
See the HSB 2023 Hagastaden project here
See the HSB 2023 Fleminggatan project here