COMPETITION FOR MAJOR HOSPITAL CONSTRUCTION PROJECT IN MALMÖ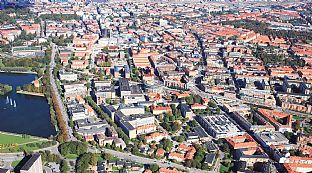 16.3.2015 | A major reorganisation of the hospital area is underway in Malmö. C.F. Møller is to bid for the conversion and creation of a new 70,000-sq.m. building, as the centre for the hospital.
Some elements of Malmö's hospital are structurally obsolete, and Region Skåne has decided to focus on creating the framework and premises needed to ensure patients treatment of high quality in an environment that is geared to the future.
C.F. Møller is prequalified to bid for how the new, 70,000-sq.m. healthcare building should be optimised and adjusted for the hospital of the future. The project will be a new centre in the area, and must therefore be able to handle a large flow of people and a complex structure.

The major Skåne hospital's current building stock was primarily built in the 1950s, 1960s and 1970s. According to the Client itself, the hospital's premises are worn down and obsolete,
and a major effort is therefore needed to optimise and renew the healthcare buildings that will provide the basis for healthcare services in Region Skåne.

C.F. Møller has extensive experience from renewal of the hospital in Malmö. In 2011, the architectural practice's billion-kronar project in the innovative emergency and infectious diseases clinic was completed. The round building is Skåne University Hospital's (SUS) newest landmark.