Havneholmen Website Launched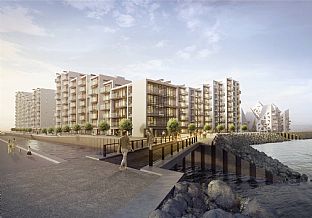 9.11.2015 | C. F. Møller's large-scale residential project in the Port of Aarhus, Havneholmen, is well underway and has just launched its own website in time for an open house event on November 14 and 15.

April 1 next year, the first batch of the 397 new homes will complete as the first of three stages of construction at Havneholmen. But already now, Saturday November 14 and Sunday November 15, the public is invited into the construction site, where there is an open house for potential new residents. The brand new Havneholmen website gives an overview of available apartments and rent prices.

With about 4,000 newcomers annually, Aarhus is growing significantly, and the new homes are located alongside several other exciting housing developments at the Port of Aarhus. Havneholmen's 400 apartments range from two to five rooms and between 74 and 145 m2 - all with balcony or access to a terrace, and all residents will have proximity to the port and town at the same time.

Front row location
The complex is located on one of the most attractive plots in the port, in the first line towards the Bay of Aarhus, and consists of a series of tall, slender buildings with characteristic steel girders at the top, as a reference to the classic canal houses with their external hoists. Residents will have direct access to the waterfront promenades as well as a sheltered green courtyard garden.

Contractors NCC are leading the design & build team, with C.F. Møller Architects and COWI engineers as consultants. The clients are the pension funds Topdanmark and PenSam, with Kromann Reumert and Niras as advisors.