Honours for the city's best new buildings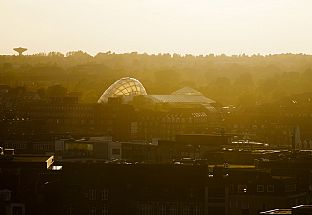 30.9.2014 | The Greenhouse in the Botanical Garden by C.F. Møller Architects is one of the three buildings to receive the Aarhus Municipality Architecture Award this year.
Earlier this month the Greenhouse, one of Aarhus' popular attractions, reopened after extensive refurbishment and renovation that has transformed the historic greenhouse into a modern and innovative experience and learning centre which has now been awarded by the City of Aarhus.

Botany and the fascination of nature are the focal points as plants, narratives and scenography lead the audience through botanical collections in four different climate zones, each featuring their own character and experiences.

The Greenhouse, originally designed by C.F. Møller in 1970, now houses teaching facilities for schools and green organizations, a café, a space for special exhibitions and four climate zones: the Mediterranean house, the Desert house, the Alpine house and, not least, the new Tropical conservatory, where visitors can go exploring among the tree-tops.

The light transparent dome of the tropical greenhouse is clad with ETFE foil cushions, and advanced calculations have ensured that form and energy consumption interact in the best possible manner.

The jury motivates the award by pointing out that the greenhouse constitutes "a successful example of how it is possible to combine the latest technology and techniques with the original qualities of the old greenhouse from 1970. The dome nestles beautifully in the city's skyline, and stands out like a shining jewel in the night sky".

C.F. Møller Architects, C.F. Møller Landscape and Søren Jensen Engineers have designed the project, which is supported by the Realdania foundation, the Aarhus Municipality, the Nordea Foundation and Aarhus University. The expected annual number of visitors is 80,000, but the figure could easily be much larger: Even before the official opening 70,000 guests had visited the greenhouses.

The other two awarded projects are the Moesgaard Museum, and the Iceberg apartment complex in the Port of Aarhus. The jury which selected the winners consisted of: Technical Councilman Kristian Würtz, Dr. Torben Nielsen, Dean of the Aarhus School of Architecture, artist Jan Balling, city architect Stephen Willacy and team leader Jan K. Olesen and landscape architect Ole Skou Rasmussen, both from Aarhus Municipality.
More about the Greenhouse
More about the landscape of the Greenhouse