International Benchmark for Hospital Architecture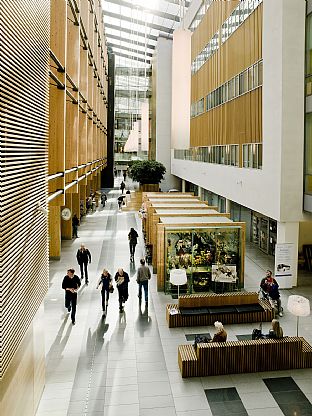 10.4.2015 | The Akershus University Hospital in Oslo continues to be one of the world's top benchmark projects for quality in healthcare design, frequently featured in lists of the most outstanding examples of modern hospitals, and an almost inevitable study object prior to the planning of new large-scale healthcare projects.
Wherever investments in huge healthcare development projects around the world are underway, a prior visit to Akershus is almost a regular part of the procedure - whether delegations come from Denmark or Singapore.

The combination of high-tech solutions and efficiency with a warm and friendly atmosphere is part of what impresses international visitors most, and they also point out the consequent use of daylight and the overview and easy wayfinding provided by the inner street space as a major inspiration which subsequently becomes included in the tenders for their own hospital projects.

For the same reason, the Akerhus University Hospital has won awards like the Building Better Healthcare Award - Best International Design, and is continuously found on lists that celebrate most outstanding examples of modern hospital design. Two of the latest listings include a collection of the World's 8 Most Architecturally Beautiful Hospitals by Healthcare Global magazine, as well as a place on the list of the 25 Most Amazing Modern Hospitals in the World by the website Best Master of Science in Nursing Degrees (BMSN).

Akershus is far from the only one of C. F. Møller's healthcare projects emerging as a leader in its field, for example, the Aarhus University Hospital has again been voted Denmark's Best Hospital - now for 8 consecutive years from 2007 to 2014.
See Healthcare Global's list here
See BMSN's list here
More about the Akershus University Hospital
More about the Aarhus University Hospital

Articles
4.8.2015 | The Akershus University Hospital has been honoured with the title as the world's best health project over 40,000 m² at the 2015 Design & Health International Academy Awards.