Maersk Building topping out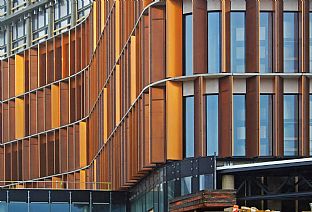 5.2.2015 | The new science tower for the Panum Institute at the University of Copenhagen, the Maersk Building, has reached its full height, the first floors of finished copper facades are visible, and today the topping out ceremony is held.
The fifteen storey landmark building is the new hub of the entire Panum complex and the university's Nørre Campus (i.e. the North Campus) as a whole. The new complex is also intended to act as the generator of a positive urban development in its immediate neighbourhood and in relation to the entire city.

Just as a tree has its root network, the tower rests upon on a series of smaller buildings which contain the common functions: the auditoriums, classrooms, canteen, show lab, conference rooms and book café. The most striking part of the root network is the extensive science plaza, which will form the new social hub of the complex. The plaza accommodates the main entrance and will serve as the main social meeting-place, linking all functions between the new and the existing Panum complex.

One of Denmark's largest construction sites
The construction site, located in the triangle between Blegdamsvej, Nørre Allé and Tagensvej in Copenhagen, is one of Denmark's largest. Ground was broken on Aug. 30, 2012, and more than 63,000 tonnes of soil have since been moved. Since April 2013, the casting of the concrete structure has been underway.

The science tower's exterior appearance enters into a dialogue with the existing Panum and the surrounding construction, where red brick dominates. The facades of the tower are clad with movable copper shutters.

The movable shutters means that the facade will constantly change character as the shutters open and close with the sun's path around the house. The shutters will control the influx of heat through the windows and help to ensure that the building achieves a low-energy class 2015 rating, in addition to the already ambitious goal that the Maersk Building will house Denmark's most energy-efficient laboratories.